– News features, commentaries, analyses, interviews & Op-ed.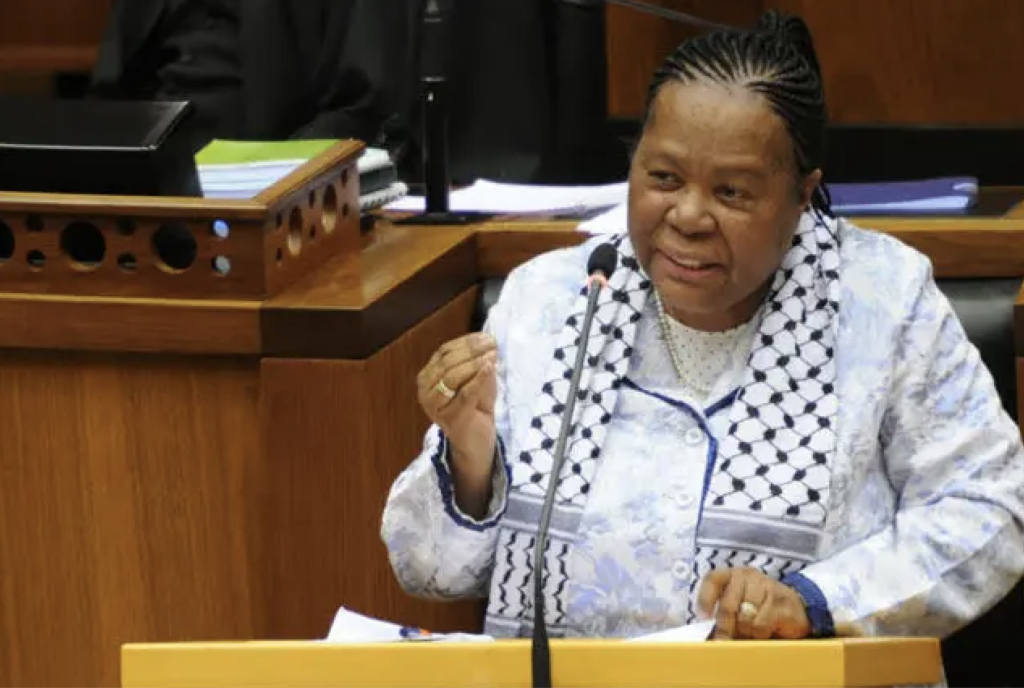 By Charles Anyiam/Special to The African Times/USA
Perhaps, one of the rising stars out of Africa today on the global stage is Dr. Naledi Pandor who is South Africa's current  Minister of International Affairs & Cooperation. Without any modicum of doubt, she belongs to the same pantheon of some Africa's most powerful women in the class of Ngozi Okonjo-Iweala, Director-General of the World Trade Organization (WTO), Tanzania's President Samia Suluhu Hassan, Chimanda Ngozi Adichie, Zimbabwe's Damisa Moyo, author of the landmark book: "Dead Aid", and such others. 
Recently, Dr. Pandor was in Los Angeles to join South African expats in Southern California to celebrate this year's Heritage Day event hosted by the Consul General, Honorable Thandile Sunduza. 
The African Times/USA was in attendance where Editor-in-Chief, Charles Anyiam caught up with South Africa's No.1 diplomat and engaged her in a brief conversation about a couple of topical issues dogging Africa today on the world stage which include the subject of multilateralism, gender imbalance at the UN, the state of US/South Africa bilateral collaboration and race relations in her country as it relates to the plight of Black people in America.
Before our meeting, the editorial board had reviewed her addresses at the last United Nation's General Assembly and at another forum in New York where she literally tongue-lashed the world body for its predilection towards continually having men at the helm of affairs to the consternation of the women. 
In one of such speeches, she called for a push by UN female delegates for a gender rotation in the election to the office of the presidency at the UN, to the applause of her audience.

In our chat, I prodded her to expatiate on some of the critical points which she had raised in her New York addresses. When she did, her diction was lucid. And her conviction was equally unmistakably strong: "That the challenges that we confront are of course structural barriers to the effect of the implementation of the women peace and security agenda, which calls for women's full and equal meaningful participation in peace processes and transitions. These are made worse by the lack of political will, particularly the lack of funding in support of women's organizations as well as enduring gender stereotypes.

"I don't like to cause trouble", she continued "but I think we should put to the secretary general, and maybe the UN women could do that for us, that indeed they can continue to have the election of the president of the General Assembly annually but it must change its gender from year to year. Because I think that having a male every year just feeds into the notion that there aren't women leaders who can play this role. So, in order to change, things have to be made a rule. If there isn't a rule, you wouldn't have change. So I do think that women who are here who are able to exert influence within the UN body, you need to raise this.

"I think I should tell you that we are hoping to save you from this male pattern because we are putting forward a woman candidate for 2025". The prospective candidate, she told The African Times/USA is Geraldine Frazer-Moloketi who will be backed by the South African government at the 79th session of the UN.

As much she believes that the UN must not be replaced with a proliferation of parochial groups, Dr. Pandor was however critical of the non-representation of Africa at the Security Council which she believes is archaic with South Africa and the rest of Africa now pushing for a reform. " We are fighting for a reform within the UN, in particular the Security Council. It's just as it was in 1948 before we attained freedom as Africa. And so we are not represented in the Security Council, except on a non-permanent rotation basis. We think it's unfair. It's archaic, so we are arguing for a reform of the UN and its institutions. And you know we play quite a role in a group of countries that are working on a UN reform".
On the US/South Africa relationship, she believes that it is much better now than it was during the previous US administration. As far as Dr. Pandor is concerned, there is a feeling that Washington is once again listening to Africa and that there are more engagements between Africa and the Biden administration. "There have been consultations rather than directives". As evidence, she pointed to visits to the continent particularly by the US Secretary of State, Anthony Blinken which in her opinion is a good sign, and about the upcoming US/Africa Summit in December that will directly address the concerns of the many African countries. "The last time African leaders met with the Head of the United States government was when President Obama invited African Heads of State to a US/Africa Summit".

She equally pointed to the new US/Sub-Saharan Africa strategy announced by Secretary Blinken on a recent visit to South Africa which she thinks is a "very good paper and strategy that talks of partnership which is what we want. So, I am looking forward in practical terms in working on what the programs related that strategy are". About the new US/Africa strategy paper, At that moment, I seized the opportunity to disclose the fact that The African Times/USA was one of the major participants and contributors to the preparation of that document.

On the topic of race relationship in her country, she had this to say: "In South Africa", we are really trying to build a social cohesion in our country. It's a national project and we don't hide about it. We have a challenge and we are trying to address it". The Minister believes that both the US and South Africa stand to learn a lot in forging racial harmony within their two countries.  Of great interest to her was to continue to build a strong relationship between her country and the African diaspora, especially with African Americans. " What I'll like to see much more of a closer relationship between South Africa and African Americans, that is with Africans in the Diaspora".


At the end of our conversation, and as we exchanged pleasantries, she quickly referenced the really cordial relationship between my native Nigeria and South Africa. In her parting shot, she told me that: "If those two countries can get it right, Africa will be on her way to greater heights".

For me, and as my personal assessment of the time we spent chatting (thanks to the South African Consul General in Los Angeles and the minister's media aide, Nelson!) with Her Excellency Naledi Pandor is that I had just had a rendezvous with a woman who is eventually destined to leave her imprimatur on both the global and local South African political and diplomatic space. I promised to visit with her again possibly at the US/Africa Summit in Washington DC or in her office in South Africa.
Since the Cuban missile crisis of 1962, where the two major super powers – USA and USSR –  came very close to unleashing a nuclear war, the world is once again faced with a potential event of a nuclear war as the stakes, reactions and counter reactions continue to lead to an escalation in the ongoing Russian-Ukraine war.
Your comments, ideas, and thoughts matter.
Drop us a line: