– News features, commentaries, analyses, interviews & Op-ed.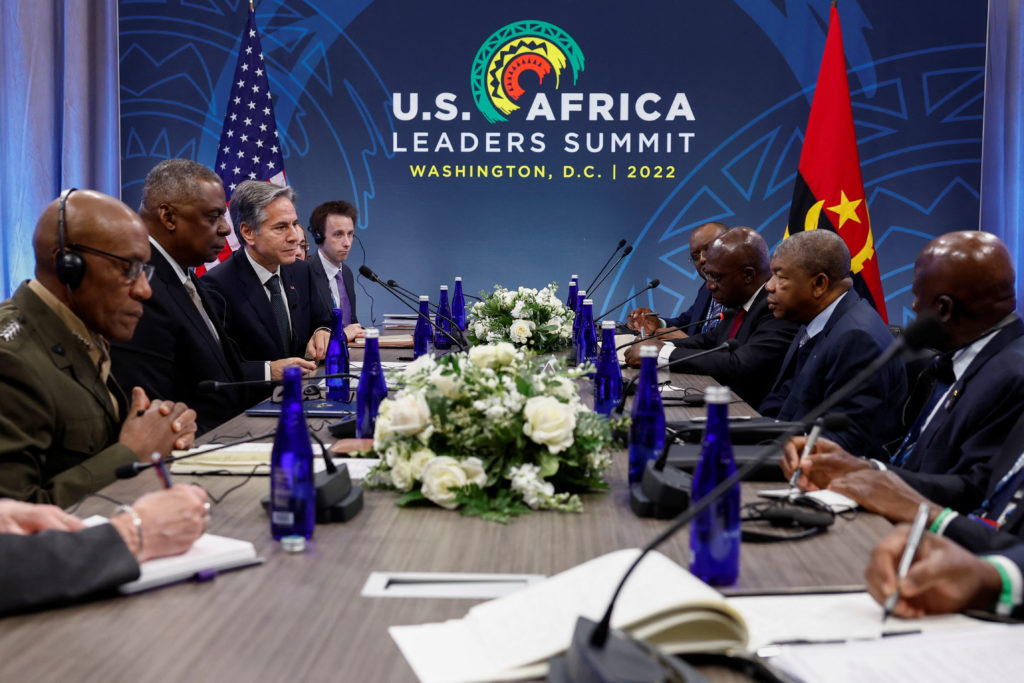 By Charles Anyiam/Editor-in-Chief
One word best describes the second US-Africa Leaders Summit which took place in the US capital December 13-15: Inconclusive. The attendance was commendable with 49 African heads of government and their coterie of aides in attendance. Conversely, the US side pulled out all the stops to elevate the event to the highest point of diplomatic significance. In his opening speech to his African guests, President Joseph Biden told them that: "The United States is all in on Africa's future".  Security was water-tight, and Washington DC literally stood still for Africa.
There was full court media presence, including of course The African Times/USA and many Africa-based media representation. However, coverage in local US press was notoriously epileptic, or at worst unnoticeable, and further underscoring how much Africa (thrice the size of the United States) means to mainstream America.
From the get-go, it was evident that the summit was self-serving. The United States stood to benefit thus setting the agenda. It was obvious that the Biden administration had woken up to the realization that the United States was losing out in what has been pejoratively described as the "second scramble for Africa". As hard as top US officials tried to project the summit as a mutually beneficial initiative, the more the pessimism grew among the majority of the African delegates who spoke with The African Times/USA. Some felt that as much as the summit represents a healthy development in the growing US-Africa relationship, it came across as a little gratuitous, and the financial pledges even more tepid compared to the support that a single European country, Ukraine has received so far in its war with Russia. It is no longer news that President Biden had announced a $55 billion  Investment into African economies over the next three years, to which the Africans feel is not far-reaching enough given the geo-political importance of the continent in the global scheme of things.
Perhaps, for the first time in the US-Africa relationship, we saw some of the African leaders push back against the US calling for more consultations rather than dictations from Washington. Leading the pack was President Paul Kagame who in response to a question about the US Secretary of State Antony J. Blinken's appeals for the unconditional release of the purported rescuer in the 1994 Rwandan genocide, Paul Rusesabagina who is the de facto face of the opposition in Rwanda made it clear that his country will not be bullied. On a sideline event hosted by the news organization, Semafor, Kagame said: "We've made it clear there isn't anyone going to come from anywhere to bully us into something to do with our lives". Maybe make an invasion and overrun the country, you can do that". In a rather defiant tone, he told a reporter that he was unsure if he was ready to meet with President Biden.
For the records, Rusesabagina had worked during the genocide as the manager of the Hotel des Mille Collines in Kigali, the setting for the film "Hotel Rwanda". The hotel housed more than 1,000 people, mostly Tutsis; all survived. He was later to receive a US Presidential Medal of Freedom from President George W. Bush. He was to be arrested by Rwandan authorities for anti-government activities and later convicted.
In the same tone, President Nana Akufour Addo (Ghana) told the summit that Africa must stop "begging" from the West in order to earn global respect and change poor perceptions about the continent: "If we stop being beggars and spend African money inside the continent, Africa will not need to ask for respect from anyone, we will get the respect we deserve. If we make it prosperous, respect will follow". 
Other activists and opinion leaders from across Africa told The African Times/USA that not much has changed even with the summit. "A level playing field", the Angolan minister of mineral resources, petroleum and gas, Diamantino Pedro Azevedo said, "must be established as a framework for a better relationship", he told our reporter. "The insistence on renewable energy for instance, must not be pursued at the expense of Africa's growing economies that are still very much dependent on her mineral resources. I think that's unreasonable and should be reviewed. Both sectors must be allowed and encouraged to grow side-by-side".
Nevertheless, quite a few new business commitments between African and US businesses were announced including  a $150 million USD into Zambia's mining sector and America's National Basketball Association's (NBA) Africa Chief executive, Victor Williams announced new initiatives to attract players from the continent into its rosters. On the African Growth and Opportunity Act (AGOA), which is the piece of US legislation that grants African countries duty-free access to US markets which is due to expire in 2025 and will need congressional renewal. However, if AGOA fails to get a nod from US lawmakers, it will leave African countries no option than to pursue bilateral trade deals such as Senegal's hopes to launch energy exports to the United States as her first gas export project is nearing completion.
As was expected and amidst the tight security and jammed traffic to areas closest to the venue, nationals of various African countries picketed their leaders outside the Walter E. Washington Convention Center calling for the US government to extract greater accountability from African leaders up to outright barring of  Uganda's Yoweri Museveni, Prime Minister Abiy Ahmed of Ethiopia, Cameroon's Paul Biya from attending because of their questionable human rights record, etc.  Uganda's National Unity Platform (NUP) diaspora team carrying placards were arguably the most vociferous followed by the Ethiopians, especially the Tigryans. The NUP protesters from Uganda demanded free speech and press and the unconditional release of some opposition leaders by Kampala. They also decried the lack of free and fair elections which they said has kept Museveni in power since 1986.
Also prominent on the picket line were hundreds of Tigyans who protested alleged genocide against their people by the Ahmed government in Addis Ababa, describing the situation as dire. They argued that President Biden should not have invited "a man with blood on his hands" to the summit. Other protesters included groups from the Cameroon's Ambazonian agitators, and the DRC.
Among African Americans with whom we spoke to, they decried the apparent lack of participation by them in hosting Africa in Washington for such an important event for a continent that they derive their ancestry. "For a US Africa policy to be effective, African Americans should have a place at the table. None of that happened", a prominent African American Washington political insider told The African Times/USA. "All you have are same old (White) faces being re-cycled by the current administration. As a far as many of us are concerned, nothing seems to have changed", she said.
Some however applauded the appointment of veteran diplomat, Johnnie Carson, an African American as Biden administration's point-guard in the successful implementation of the initiatives from the summit. Mr. Carson, "has the right psychology when it comes to dealing with Africa. However, how much power he will be allowed to exercise remains to be seen".
Personally, I was unimpressed by the quality of representation on behalf of Africa at the summit. I was totally flabbergasted by the presence of Equatorial Guinea's ailing president, Teodoro Obiang Nguema Mbasogo who was completely hunched over by age, Gabon's Ali Bongo who is obviously physically incapacitated, and Cameroon's Paul Biya who seems to suffer from cognitive dissonance. All of them should have stayed home. These gentlemen literally sleep-walked their way throughout the summit to the detriment of their various countries. Scoring high on my sheet however were William Ruto (Kenya), Paul Kagame (Rwanda),  Hakainde Hiichilema of Zambia, and of course the current chairperson of the African Union (AU) President Macky Sall of Senegal who invariably represent the new face of Africa.
Overall, there was a sincerity of purpose in the tone of President Biden who even took time off to watch a World Cup match with some of his guests. In his closing remarks, the US President promised to add African countries in his bucket list of places to visit with no specifics announced. But Africans from all walks of life including some of the leaders who spoke in anonymity with me were less enthused about the outcome of the summit based on experiences of the past. As we all returned home after a hectic almost one-week stay in the US capital, many of us were still wondering if this will not turn out to be another exercise in futility or a strategic posturing against the Chinese and Russians who are already either all in Africa or consistently knocking on Africa's door.
The year 2022 is shaping up to be a critical period for the troubled relationship between Kinshasa and Brussels.
In June, during a visit to the Democratic Republic of Congo (DRC), the Belgian king Philippe expressed his regret for the wounds of his country's colonial past. 
Your comments, ideas, and thoughts matter.
Drop us a line: