Every Boxing Day will now have a new meaning as the day that Archbishop Desmond Tutu passed away at 90 years, marking the end of an epochal time for Africa especially his dear South Africa, and the rest of the World.
At The African Times-USA, we had the rare privilege of celebrating the Archbishop at the 18th Africa Achievement Awards in Beverly Hills, California.
The highly respected clergyman and his compatriot, Nelson Mandela became the news and the media icons who broke through the glass ceiling for Africa. Both men brought Africa to become a contemporary world player. Mandela and Tutu were on their self cognizance the duo who demystified Africa to the contemporary World press and brought Africa's image to modern acknowledgment.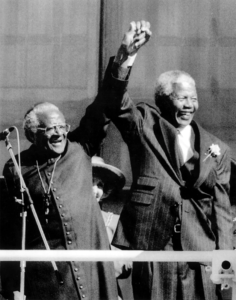 Everyone knew and loved Tutu, and the gentle smile that never left him. Till the end.
At the invitation to a luncheon atop Cape Town's Table Mountain with at least 1,000 other guests, the amiable Archbishop in his characteristic way was able to spot and walk over to a Times' top executive in the audience to exchange pleasantries and to remind our representative of the great memories from his time in Beverly Hills, California for The Times' Awards event.
The World and Africa mourns the loss of a progressive iconoclast who will be remembered on each Boxing Day from now henceforth.=
Rest on Desmond Tutu…You ran a good race.
Recently an academic article, asserting the historical benefits of colonialism, created an outcry and a petition with over 10, 000 signatures calling for its removal. The Case for Colonialism, published in Third World Quarterly by Bruce Gilley, argues Western colonialism was both "objectively beneficial and subjectively legitimate" in most places where it existed.