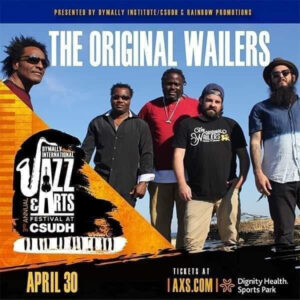 The 3rd Annual Dymally International Jazz & Arts Festival, Saturday, April 30th, 2022, 1 to 10 p.m. Get your TICKETS TODAY. Every seat in the house is a GREAT SEAT. You don't want to miss this. 
International Acts on TWO performing stages, an Arts Pavilion, Retail Merchandise Vendors and more. The Original Wailers is just one of this year's featured artists. 
This cultural event is the primary fundraising charity event for the Dymally Institute's Fellows and the CSUDH Presidential Scholars Programs. Also GROUP DISCOUNTS NOW AVAILABLE. Members of the "D9," Masonic organizations, Social and Professional Clubs, Business Groups, Labor Unions, Churches and Community Groups, purchase your tickets in a group of ten (10) or more and receive a 10% Discount off the price of your tickets. Now is the time to order your tickets and seat together to enjoy this fantastic festival. Create your own party within our party. Join us for the FIRST Jazz Festival of the Season. The Cause is right, the music is tight. 
For information about GROUP SALES, call (310) 243-2204. Once you receive your discount code, go to AXS.com, press the group discount link, put in your code and order your group tickets. 
Tickets On Sale NOW at AXS.com 
To PURCHASE TICKETS NOW or place your GROUP SALES order –