Pineapple, or Ananas, as this delicious fruit is called in all the non-English speaking countries ls turned into fashionable shoes by three enterprising students in Nairobi, Kenya.
Pine Kazi as a company established in 2019 by three passionate young students in Nairobi, Kenya won the Fashionomics Africa Competition organized by the Africa Development Bank (AfDB) and administered by Parsons School of Design, the eminent fashion design power center. Fashionomics Africa had many entries from across Africa. The contest search was designed to support Africa's entrepreneurship and creative development concepts, plus identify investment-worthy projects that have a solid business basis and address social and environmental challenges. The winner, the three students who land their Pine Kazi company is a superb example of what the AfDB Fashionomics Africa initiative had as its goal – they resolved all the prerequisites for a potentially successful product with remarkable and unusual market viability.
Interestingly, their inspirational reality crystalized when they visited Del Monte (the largest pineapple producing company in Kenya) and realized that agricultural crop waste management is a serious issue that often goes ignored and uncontested. The pineapple after-harvest waste is usually burned, releasing tons of harmful greenhouse gases into the environment or left in the farms to decompose. – this became their challenge.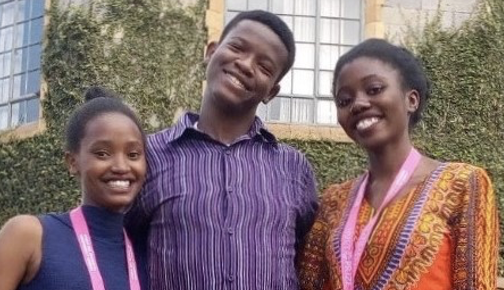 The three students, Olivia Okinyi, Angela Musyoka and Mike Langa were compelled by the need to solve this problem, they embarked on a journey to develop a solution. After 6 months of solid research and hard work, they developed the first pineapple-based textile, after which came "how and in what to use it" – the answer… SHOES. With the pineapple fabric a reality, they advertised on their Facebook for a "shoe designer" and were successful with splendid design direction for their women and men shoe line and now an added line of handbags.