– News features, commentaries, analyses, interviews & Op-ed.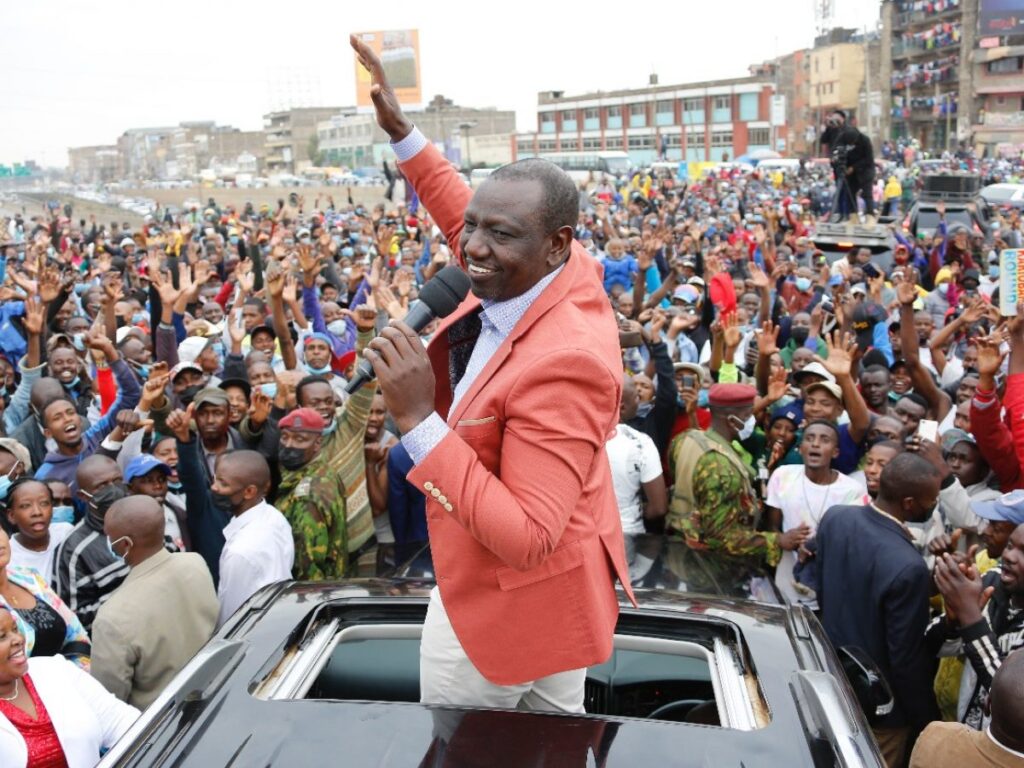 By Thandisizwe Mgudlwa
AFRICA and her friends all over the world are keeping their fingers crossed and hoping for the best as Kenya produces new leadership.
Barring unforeseen circumstance including a an appeal at the country's Supreme Court, William Samoei Arap Ruto will be inaugurated as the new President of Kenya August 30, 2022, or before and after you read this story.
The 55 year old President- Elect has been  in the political arena for a long time for the man who originally hailed from Sambut village, Kamagut, Uasin Gishu County, Kenya.
His journey to the highest job in Kenya has come with a lot of up and downs and serious controversies. Perhaps, it would not be harsh to describe him as 'Controversial Figure' of Kenya politics.
Ruto has been involved in many reported land grabbing controversies, including several Kenyan state corporations embroiled in endless litigation over the land grabs. Much media, and many politicians and activists often describe him as "Arap-Mashamba", the word being a portmanteau of son of lands.
Ruto has also been involved in a land grabbing saga involving his mysterious acquisition of Weston hotel land, pitted against public counter-accusations with several state corporations in Kenya, all surrounding the original owner of the land.
According to The Standard, the Kenya Civil Aviation Authority (KCAA), a state agency, was duped into surrendering the land on which the Weston hotel was built. And in December 2010, the prosecutor of the International Criminal Court announced that he was seeking the summons of six people, including Ruto, over their involvement in the 2007–8 electoral violence.
Other controversies surrounding Ruto include the KPC Ngong Forest Land Scandal, Muteshi Land, Joseph Murumbi's 900-acres, Jacob Juma assassination allegations, corruption allegations. Ruto authored several papers including a paper titled Plant Species Diversity and Composition of Two Wetlands in the Nairobi National Park, Kenya.
Before this though, and during his time in the campus for the undergraduate course, Ruto was an active member of the Christian Union. He also served as the Chairman of the University of Nairobi's choir.
It is through his church leadership activities at the University of Nairobi that Ruto met President Daniel Arap Moi, who would later introduce him to politics during the 1992 general elections.
Ruto owns a considerable chicken farm in his home village of Sugoi, which was originally inspired by his stint as a live chicken hawker on the Nairobi-Eldoret highway. And after graduating from the University of Nairobi in 1990, Ruto was employed as a teacher in the North Rift region of Kenya from 1990 to 1992, where he was also the leader of the local African Inland Church (AIC) Choir.
Ruto began his political career when he became the treasurer of the YK'92 campaign group that was lobbying for the re-election of President Moi in 1992, this is where he learned the ropes of Kenyan politics. He is also believed to have accumulated some wealth in this period.
After the 1992 elections, President Moi disbanded YK'92 and Ruto attempted to vie for various KANU, then Kenya's ruling party, branch party positions but did not succeed.
Ruto then ran for a parliamentary seat in the1997 general election. He surprisingly beat the incumbent, Reuben Chesire, Moi's preferred candidate, as well as the Uasin Gishu KANU branch chairman and assistant minister. And after this, he would later gain favour with Moi and be appointed KANU Director of Elections. His strong support in 2002 for Moi's preferred successor Uhuru Kenyatta saw him get a place as assistant minister in the Home Affairs (Interior) ministry docket.
Later in that election, as some government ministers resigned to join the opposition, he would be promoted to be the full Cabinet Minister in the ministry. KANU lost the election but he retained his parliamentary seat. Ruto would thereafter be elected KANU Secretary General in 2005 with Uhuru Kenyatta getting elected as Chairman.
In 2005, Kenya held a constitutional referendum which KANU opposed. Some members of the ruling NARC coalition government, mainly former KANU ministers who had joined the opposition coalition in 2002 under the LDP banner and who were disgruntled as President Kibaki had not honored a pre-election MoU on power-sharing and creation of a Prime Minister post, joined KANU to oppose the proposed constitution.
Since the symbol of the "No" vote was an Orange, this new grouping named their movement the Orange Democratic Movement (ODM). Ruto was part of its top brass, dubbed the Pentagon. He solidified his voter base in the Rift Valley Province. ODM was victorious in the referendum.
In January 2006, Ruto declared publicly that he would vie for the presidency in the next general election (2007). His statement was condemned by some of his KANU colleagues, including former president Moi. By this time, ODM had morphed into a political party.
Ruto sought the nomination of the Orange Democratic Movement (ODM) as its presidential candidate, but on 1 September 2007, he placed third with 368 votes. The winner was Raila Odinga with 2,656 votes and the runner-up was Musalia Mudavadi with 391.
Ruto expressed his support for Odinga after the vote. As KANU under Uhuru Kenyatta moved to support Kibaki, he resigned from his post as KANU secretary general on 6 October 2007. The presidential election of December 2007 ended in an impasse. Kenya's electoral commission declared Kibaki the winner, but Raila and ODM claimed the victory.
Mwai Kibaki was hurriedly sworn in as the president of the December 2007 presidential election. And following the election and the dispute over the result, Kenya was engulfed by a violent political crisis. Kibaki and Odinga agreed to form a power-sharing government. In the grand coalition Cabinet named on 13 April 2008 and sworn in on 17 April, Ruto was appointed as Minister for Agriculture. Ruto also became the Eldoret North's Member of Parliament from 2008 to 4 March 2013.
Ruto was among the list of people who were indicted to stand trial at the ICC for their involvement in Kenya's 2007/2008 political violence. However, the ICC case was faced with challenges, especially concerning the withdrawal of key prosecution witnesses. In April 2016, the Court dropped charges against Ruto.
On 21 April 2010, Ruto was transferred from the Agriculture Ministry and posted to the Higher Education Ministry, swapping posts with Sally Kosgei. On 24 August 2011, Ruto was relieved of his ministerial duties and remained a member of parliament. Ruto joined with Uhuru Kenyatta to form the Jubilee alliance for the
2013 presidential election. He served as the Acting President of Kenya between 5 and 8 October 2014 while President Uhuru Kenyatta was away at the Hague. In the August 2017 General Elections, Uhuru and Ruto were declared victors after garnering 54% of the total votes cast. However, the Supreme Court of Kenya nullified the election, and a fresh election was held in October 2017. The opposition boycotted the fresh election and Uhuru and Ruto were re-elected with 98% of the total votes cast. The Supreme Court upheld the results of this second election.
On December 2020 Ruto announced his alliance with the newly formed United Democratic Alliance party. He was the only presidential candidate to attend the second part of the 2022 presidential debate. After the 2013 presidential election, Ruto was elected the Deputy President alongside President Uhuru Kenyatta under the Jubilee Alliance ticket. He was a Member of Parliament (MP) from 1998 to 2013.
He served as Minister for Home Affairs in the Daniel Arap Moi administration from August to December 2002. William Ruto was born on 21 December 1966 in Sambut village, Kamagut, Uasin Gishu County, to Daniel Cheruiyot and Sarah Cheruiyot. He attended Kerotet Primary School for his primary school education. The young Ruto was enrolled in Wareng Secondary School for his Ordinary Levels education before proceeding to Kapsabet Boys High School in Nandi County for his Advanced Levels. He then went on to receive a BSc in Botany and Zoology from the University of Nairobi, graduating in 1990. Ruto later enrolled for a MSc in Plant ecology, graduating in 2011. The following year, he enrolled for a Ph.D. and after several setbacks, he completed it and was awarded a Ph.D. from the University of Nairobi, graduating on 21 December 2018. 
Ruto was elected president of Kenya in the 2022 presidential election. The question then is: by gaining the majority vote in the 2022 presidential elections, are Kenyans looking for a man with new ideas,
new direction and a new vision?
Or will they later regret this choice?
South Africa lost one of her top diplomats and a distinguished member of the South African Democratic Teachers' Union (SADTU), Mpendulo "Squires" Jele. A friend of the media and in particular, The African Times/USA with its offices in Los Angeles where Ambassador Jele served in the South African consular mission for a while. 
Your comments, ideas, and thoughts matter.
Drop us a line: