By Basil Chiji Okafor/Exclusive to The African Times-USA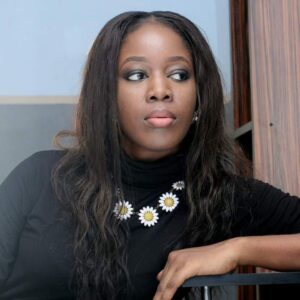 It is quite rare to find such finesse in so prolific an artist, as Mary Edoyugbo, gifted Nigerian pointillist, who combines her unusual skills, with an amazing dexterity – it would usually take her mere weeks to churn out a life-size work that should take an average artist several months, to even make headway. But the productive lady is highly driven.
At the rate she is going, it is very likely that this talented young woman, may become the new 'rock star' of Nigeria's visual arts and one of the most sensational discoveries to be made in these parts, in recent times, as far as contemporary Nigerian art, is concerned.
She is imbued with all the attributes of a star. Tall, dark, elegant, she carries her lithe figure with the regal mien of a queen. But with Mary, it is not just about the classic case of brains and beauty. Indeed, she adds to her impressive skills and presence, a hint of a certain radical outlook on life that defines who she truly is and sets both herself and her works, apart.
Since graduating magna cum laude from the famous University of Benin Art School, in 2012, majoring in painting, the artist has stubbornly stuck to her calling, through thick and thin: "I do no other business, but art. It is my only source of livelihood and I have got to be good at what I do, in order to make a living," she confidently quipped.
This, in fact, is one of the key reasons that drive her. But even more pivotal to her motivation, is the fact that she is the last child in a family of four other siblings, all female. Thus, surrounded by women – including her mother and "a willful grandmother" that made sure she continuously replenished her stock of drawing and painting materials, even as a child, Mary learnt to focus on and pursue her goal in life, early enough, to prove that, "we can be enough, irrespective of the expected thought of women being the 'also' in the gender weight of life". 
Despite her challenges, however, when people watch her well-rehearsed and deft moves, as her accomplished hand floats her Rapidograph pen across a vast layout of work, with feather-like ease and precision, they tend to overlook the grueling hard work that pointillism entails. "That really irks me," said the artist, "but I thoroughly enjoy what I do." Nevertheless, tough as it may all be, single-minded but merry Mary pursues her dream with the ease of a hobby.
Her eccentric side also finds expression in the power of her symbolism which, in fact, raises her works to such exalted levels as suggestive of the surrealism of such great masters as Vincent Van Gogh and Salvador Dali, who both tried to critically abstract from our reality, the 'other side' of this matrix called, life.
But Mary would readily tell you she is just a pointillist, with a keen eye on common, everyday scenes of life. However, her complex array of dots which materialize real, life-like images on the two-dimensional surface somehow evoke that intangible spirit that introduces the rather magical dimension to the works of this artist.
The works are so masterfully executed that they harbor in their core, this hovering, disembodied 'spirit', left for the viewer to perceive and only then can one 'feel' the complete story. It is this dimension, which runs through the entire gamut of the pointillist's body of work, as can be gleaned from Paid Dues and Ichie B, for instance, which truly rank her works, world-class.
An environmental enthusiast, who also loves landscaping, Mary is quite disturbed about the general human disregard for the environment and the levity with which we treat the earth, our main life-support system:
"People would often tell you that the dog is a man's best friend, but they quite readily forget the environment, man's truly, best friend, indeed. Without the environment, where would man and his dog be, anyway?" she ruefully, asks.
BCO: You have described yourself as a pointillist and a quintessential one at that, you truly are. Yet, the essences of some of your works, such as Ichie B and Unwavering, with their surrealistic expressionism, reminiscent of the symbolisms of some of the great masters, portray you as an already accomplished, but upcoming surrealist. What are you really trying to express in those two works and, perhaps, others like them?
ME: For Ichie B, 'balance', is the core word for my expression, there. It was a commissioned portrait and I needed it to portray the client's personality for he is a man who is both home and abroad, knows logic and sentiments, science and art, humor and seriousness. As for Unwavering, it expresses the mental attitude of defiance and focus that one requires to cut through the ever-changing distractions of life.
BCO: Your works are laced with a lot of symbolism, yet they are rendered in plain, realistic art form. How have you evolved this level of non-verbal communication in works so realistically and masterfully rendered?
ME: Artists are usually frowned at for either being anti-social or being too talkative. I am not anti-social and I equally prefer not to talk; I let my work speak for itself, in the hope that people would explore their minds to ponder a bit about my art. Fine art is non-verbal, anyway.
BCO: There is also the use of these thin, wavy ribbons of sky blue, olive green, light purple and yellow ochre, etc., running through several of your works. Is this your insignia? What does it indicate?
ME: It is my insignia, yes, but more importantly, it is the air that I have breathed into my work. I am a god and my art is my creation. It is that aspect of my art that is beyond the physical, the ingredient of the intangible.
BCO: One has observed quite a lot of the use of human anatomy and form, in your works. Would I be correct to describe this area as your forte, (portraiture, etc.) or do you equally work on other themes?
ME: Though I sparingly work on other themes, I love nature and humans are nature's greatest asset, so I usually speak through these humans.
BCO: View From My Window is a departure from the similarity of the other themes and indicative of one who observes and has a deep connection with the environment. One also notes, from interaction with you, that you are interested in landscaping. May we further discuss this hobby of yours?
ME: As much as people claim dogs are man's best friend, the fact remains that the environment is man's best friend. My concerns about greenery are more than a hobby, actually. We tend to complicate things when it comes to taking care of our health, in Africa. But one easy way of ensuring good health, is by incorporating greenery into the fabric of our everyday lives.
Whether or not one expresses an appreciation for plants and nature, the visual presence of it does make a huge difference and the absence of it is sensed unconsciously as a stress factor. Part of the proceeds from my fine art is used in the purchase of plants and sensitization of its benefits. I shall make it a major aspect of my life alongside my art career, in subsequent years of my life.
BCO: Judging generally, from the norm, in contemporary Nigerian art, your work truly stands out in terms of concept, composition, skill, in execution and general finish. What drives you to such high degree of excellence?
ME: Firstly, fine art is my career and the business of it drives me. It irks me when people conclude either directly or suggestively, that it is a pastime for me. But from it comes my livelihood, art, being my career. I have to be good at it to be seen and patronised.
Secondly, I am a firm believer in always giving of one's best and expressing it through my art is one of the ways I know how to. And so, I stretch myself to ensure I deliver above par pieces, especially with the technique of pointillism that few people dare to practice. These are what drive  me.
BCO: It is true that you have received formal training in art, but looking at your masterful execution of works this, obviously, goes beyond formal training. You are definitely, naturally talented. Tell me about your early childhood, your inspiration and your motivation.
ME: I grew up as the last born of five female children and had a grandmother that usually bought art materials. I was the one keen on using them and so she encouraged me by buying more. I decided to take art professionally, by studying it at the university. My siblings are into Engineering, the Sciences and Law.
What motivates me? That I'm not where I want to be is already motivation enough for me!
BCO: What is your own assessment of ancient Nigerian art and artists, side by side, the modern and contemporary Nigerian art and artists?
ME: I have not been very pleased with our African forebears in the art industry. I think they were too self-absorbed and didn't make adequate moves to establish art as a thriving industry or career, to delve into. We, the contemporary artists, have been the ones pulling ourselves up by the bootstraps, though many amongst us are still individualistic and it hasn't really dawned on them to collaborate in serious actuality, to establish a thriving industry for the arts. It's sadly still about exhibitions and personal names. We are still sort of chips off the old blocks!
BCO: Looking further down the road, what do you think lies ahead for contemporary Nigerian art, in general?
ME: Nothing lies ahead, except we do something now. All the politics in the art industry is self-sabotaging but we are unaware of it. The hope I have is in what I am building gradually with a few other colleagues in the art industry. I can speak for my plans, not the art scene as a whole. Amanda Gorman did say:
"…For there's always light, If only we're brave enough to see it, If only we're brave enough to be it."
BCO: What does an artist need to do, to become competent and skilled?
ME: Diligence and a strong focus on the business of art. If one isn't making a living on their practice, there shall certainly be less effort and interest in continuing strong.
So a keen sense of business with adequate discipline are what I think matter.
The presence of people of African descent in Europe is generally viewed through the prism of slavery and colonization, obscuring a much older shared history. In this interview By UNESCO's Agnes Bardon, the author of the book: "African Europeans: An Untold History", Olivette Otele spoke frankly about a group of people whose disconnect existing between them and the larger European society despite many generations of history with their environment which remains obscure.