ARTS, STYLE & ENTERTAINMENT
This is YOUR lifestyle gallery – of what is new and what is happening in the U.S. And the Black World, not excluding Africa. For this section if you have any news we should know about – let us know at: lifestyle@theafricantimes.com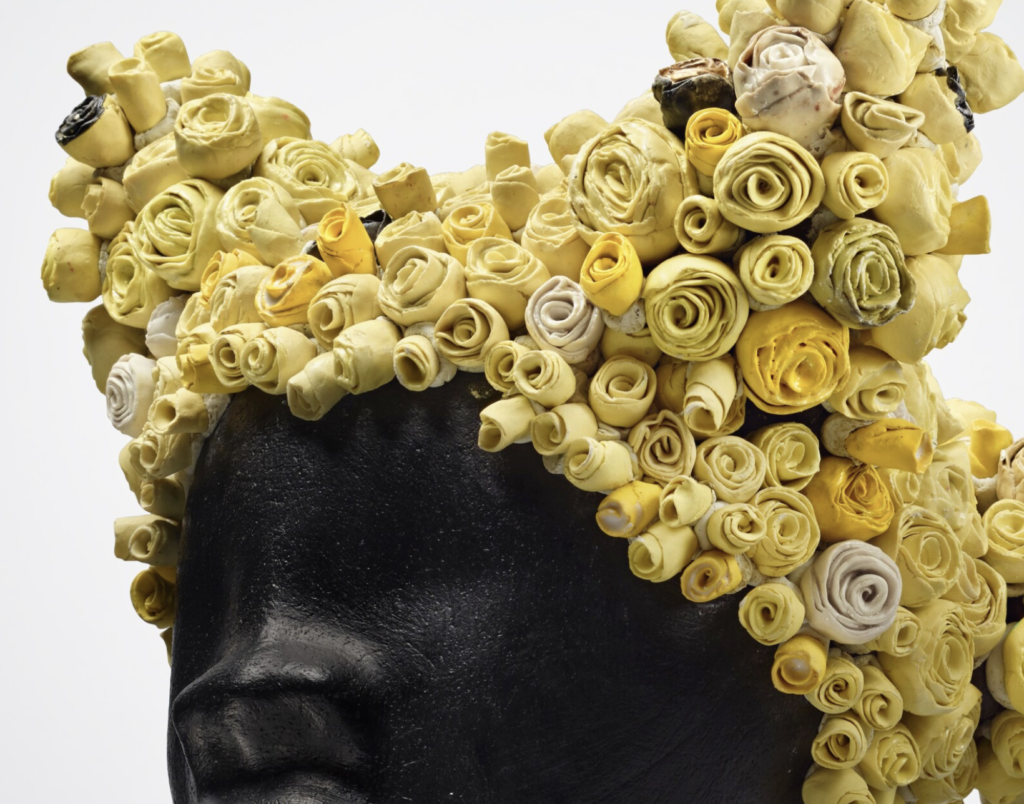 "Simone Leigh's hand touches everything, and the result of her hand being present in all stages of the process of making is that the works are extremely resonant in person. The attention to every detail, every surface, translates to works that are once personal and human."
A beguiling bust of woman resting in serene self-possession as intricately inlaid yellow flowers blossom atop her demure head, Birmingham alluringly embodies Simone Leigh's deft artistic inquisition into the histories and nuances of Black femininity. Executed in 2012, the title of the present work recalls the Birmingham Church Bombing of 1963, a racially motivated attack that claimed the lives of four young Black girls and was a catalyst for the civil rights movement.
Leigh's delicately carved flowers here offer an elegiac tribute to the young victims while rendering the Black woman in a subversive sanctitude:
as the yellow spring flowers flourish and compose her stylized hair, the subject of Birmingham appears divine, as if in a dignified state of tranquility unaffected by the world around her. Since her term as the artist-inresidence at the Studio Museum in Harlem in 2011, Simone Leigh has dazzled the art world with her sculptures of Black women, which have spotlighted in critically acclaimed solo exhibitions held at the Hammer Museum in Los Angeles in 2016 and the Solomon R. Guggenheim Museum in New York in 2018.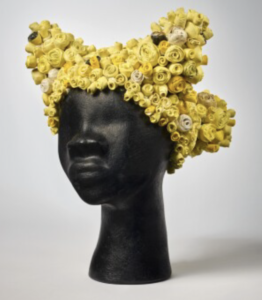 As a testament to her continued success, Leigh this year became the first Black woman to represent the United States at the Venice Biennale, winning the Golden Lion for her presentation in the Arsenale, and will open her first museum survey at Boston's Institute of Contemporary Art in 2023. Birmingham is a masterful example of Leigh's elegantly defiant exploration of Black female resilience and regality that establish her as a quintessential voice of American art today.
Leigh's sweeping oeuvre encompasses sculpture, video, installation, and performance and is informed her interdisciplinary research practice anchored in feminist discourse, folklore, and ethnography. Originally trained as a ceramist, Leigh synthesizes the education she received within a Western tradition of ceramics tracing back to the iconic British studio potter Bernard Leach with the sculptural histories of West and South Africa. From her intimate portrait busts of Black women to her grandiose architectural domes, Leigh's triumphant sculptures foreground the Black female experience to address issues ranging from Black emancipation, the colonial gaze, and the historicization of objects associated with the African diaspora.
Rendered in porcelain, terracotta, and epoxy, Birmingham also evinces Leigh's masterful synthesis of pre-modern materials and contemporary sculptural techniques to critically address racial and gendered issues of corporeality. Sculpted without articulated eyes, Birmingham abstracts the corporal figure as the sculpture reifies Leigh's imagination of "a kind of experience, a state of being, rather than one person." (The artist quoted in: "Simone Leigh, now in the spotlight, contemplates the theme of invisibility," 24 April 2019, The Art Newspaper (online)). Yet Leigh imbues the present work with charm, embellishing it with flowers that blossom in ebullient yellow and intricate details that both contrast with and extend from the figure's smoothly sculpted face. Her head life-size and her buns beautifully adorned, the subject of Birmingham exudes an intimate and transcendent elegance to act as a graceful act of resistance against the historical denial and objectification of Black women's bodies.
"The portrait busts are as anonymous as they are sensuous…This stylized hair is gloriously coiffed, and one imagines every rosette's meticulous and repetitive placement on each figure's head. These silent figures are similar without being generic, and the proliferation of style within a constrained set of forms is offered with all the complexity of a Sol LeWitt wall drawing."
I first saw Nkosinathi Maphumulo aka Black Coffee perform at Amaros Night Club in Pretoria, South Africa during the late 2000s. Dressed in a casual T-shirt, no one would have guessed he was destined for global glory. Beneath strobe lights, bathed in throbbing house music, clashing voices and perspiration, he could have been just like any other struggling deejay on the make. 
Your comments, ideas, and thoughts matter.
Drop us a line: