– News features, commentaries, analyses, interviews & Op-ed.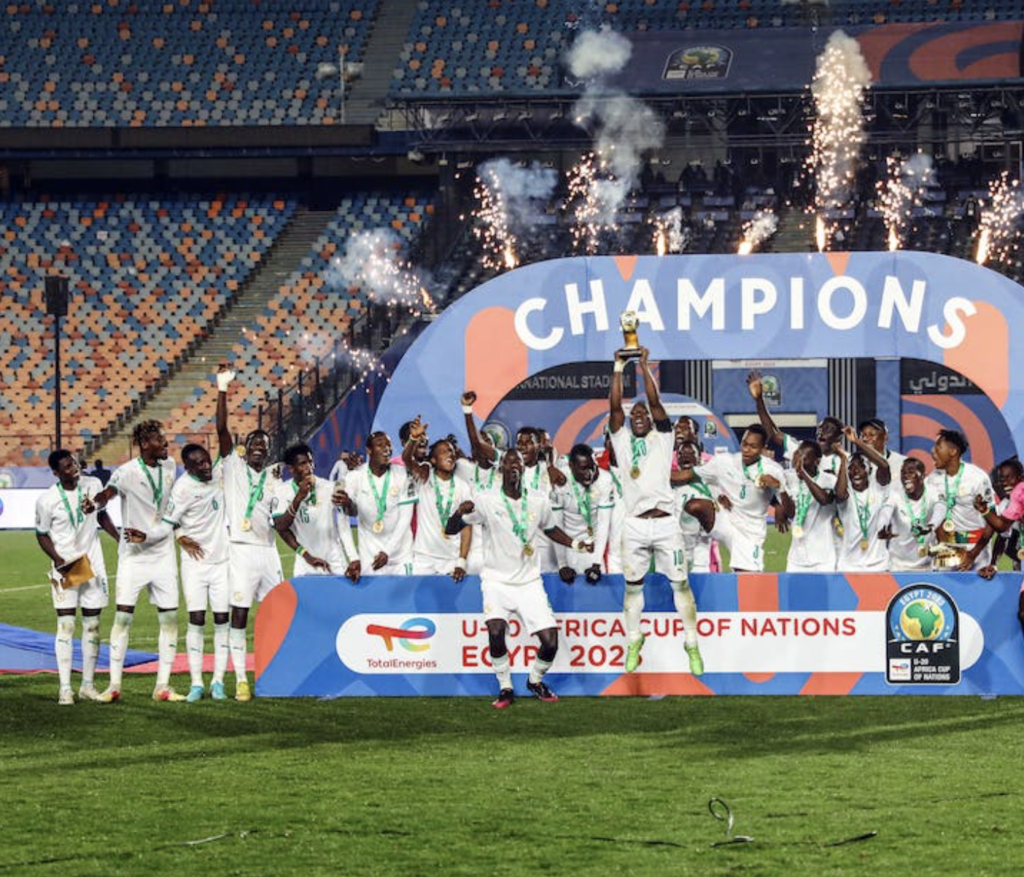 The Senegal team celebrates its trophy after winning the U-20 Africa Cup of Nations final in Cairo, Egypt, March 11, 2023. Photo Ahmed Gomaa/Xinhua via Getty Images.
By Souleymane Diallo
Senegal's national football teams have won four continental trophies in one year – Africa Cup of Nations (CAN 2022) in Cameroon, African Nations Championship (CHAN 2023) in Algeria, CAN beach soccer in Mozambique and CAN under 20 in Egypt. Souleymane Diallo, teacher-researcher, head of football courses at the National Higher Institute of Popular Education and Sport (INSEPS) of the Cheikh Anta Diop University in Dakar explains to a correspondent the reasons for these performances.
What is the trigger for Senegal's success?
The trigger can be located at several levels. Since the arrival of Augustin Senghor as president of the Senegalese Football Federation (FSF), there has been a structuring of football oriented on four essential aspects.
First at the organizational level, we saw that the FSF has a mastery of African competitions. Previously, Senegal went to African competitions for a discovery or it stayed a long time without going.
Since we solved the problem of participation, we have been able to control the factors that revolve around competition. This facilitated a mastery of logistics. To win in Africa, it is necessary. Added to this is the significant aid of the State of Senegal which charters a special flight to ensure the movement of players. In Africa, travel is very difficult.
We can also highlight the policy put in place by the FSF which asks the different technical staffs to have a complementarity, to interlock. Players who were in the under-20 category are now in the under-23s. The under-17s also include those under 15. Through the organization put in place, we train an athlete who will be in continuity, in the search for performance through this policy aimed at putting the staffs together.
Do you distinguish other success factors?
The other factor is the infrastructure that plays a role in the search for performance. The existence of two technical centers in Toubab Dialaw and Gueréo, two villages on the Altantique coast, south of Dakar, allows the various national teams to have sufficient time to regroup but also adequate grounds to be able to train players. These two national technical centers have played a very important role in these performances that we are witnessing.
The contribution of academies should not be overlooked. For example, Generation Foot has seven boarders on the under-20 team and four on the local national team that won the CHAN. Diambars has more than 5 residents in the under 17 age group. These academies play an important role in the development of Senegalese football. They have good infrastructure.
Another factor is the existence of local fields everywhere – especially in Dakar – that allow boys to play football.
We should also highlight the contribution of football schools, which have organized themselves into an association called the National Coordination of Football Schools (CONEF), which organizes competitions. Many Senegalese players playing in Europe come from these football schools. This is the case of Sadio Mané, the best African player. Most of our players finish their training in Europe. Senegal is the third African nation that exports the most players to Europe. This is proof of the good quality of their training.
Management training has also contributed to this. In this area, Senegal is mentioned everywhere. As proof, the experimentation of a mass training of FIFA instructors in license organized in Senegal of which I had the chance to be part. In 2021, we trained more than 1,000 coaches.
The other important point is patience at the FSF level. There is a certain stability on the benches of the different national teams. This means that leaders trust coaches, because athletic performance is built over time. Let's take the example of Aliou Cissé who has been at the head of the national team for 8 years. Previously, it was in the under-23 category. This is evidence of continuity and patience on the part of decision-makers. For 12 years, the same people have been taking care of the destiny of Senegalese football at the FSF.
Finally, we must remember the important contribution of clubs that do a job by trying to recruit very good coaches, to organize themselves within them, by equipping themselves with their own infrastructure. These same clubs provide players to the various national teams.
Every year, Senegalese clubs lose most of their best players to championships such as Guinea, Mauritania and Morocco. These clubs must have a policy in place to retain them. For this policy, the financial aspect seems important.
This paradox is ultimately easy to explain, because football is business. A football club is a business that makes a living. If you are given a contract in a foreign league, even if it is not raised, you are forced to leave, because it is the search for money.
An essential aspect is already settled: the Senegalese championship has competitive players. What remains to be done is that the clubs work to be able to retain them. The State and national societies must participate by helping the clubs financially.
Senegalese society is designed in such a way that there is a social dimension around football. You can't retain a player who has a contract that allows him to make a living. If, for sporting reasons, you want to retain him, it can create problems in clubs. That is why to help them, the leaders are obliged, at the end of each competition, to release the best players.
Subscribe to our bi-weekly newsletter and be the first to Receive New Updates.
Your comments, ideas, and thoughts matter.
Drop us a line: